I'm Jimmi Journey, underground rave DJ of the Spoololife CREW.
The Beta Highmove EP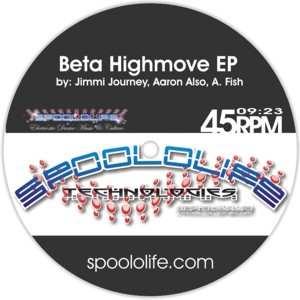 The Beta Highmove EP, SPOOLOLIFE0001 on Spoololife Technologies, is a masterful choon produced by Jimmi Journey, Aaron Also, and A. Fish, and released on July 4, 2007, launching the label into the digital download era with one of the largest independent dance music download stores in the world.
The Journey
Jimmi's sessions of house and techno—on two or three Technics turntables—are everything you expect from an underground rave DJ devoted to the craft since before the turn of the millennium.
Billed alongside EDM legends Electric Skychurch, Scott Hardkiss, Infected Mushroom, Paul Johnson, Tommy Sunshine, Heather Heart, Detroit Grand Pubas and many many more, Jimmi rapidly gleaned notoriety in the central U.S. rave circuit.
On the wheels of steel, Jimmi weaves housy techno and techy house grooves from an unexpectedly diverse selection of wax. As founder of the Spoololife CREW, he passionately promotes massives and underground rave culture.
KIKWEAR Back In ACTION Tour
KIKWEAR's flagship "Phat Pants" took the underground rave scene by storm in the mid 90s, but my endorsement and promotion of KIKWEAR is a testament to its grassroots outreach to Electronic Dance Music culture nation-wide. Aboard the KIKWEAR "Back IN ACTION TOUR," sweeping the United States in 2013, I was honored to promote KIKWEAR, Spoololife, and Dance Mania with two tour stops in the midwest.
RAVESTRONG
A rave officially endorsed by the American Cancer Society's "Relay for Life," and event on the KIKWEAR "Back in Action" tour, RAVESTRONG was a fundraising success at Bloomington Indiana's "Little 500" weekend.
Unlocking the Groove by Mark Butler
Featuring contributions from Jimmi Journey, Jeff Mills, Richie Hawtin, Underworld, and DJ Shiva, author Mark Butler's book "Unlocking the Groove" won the Certificate of Merit for Best Research in Recorded Popular Music 2007 by the Association for Recorded Sound Collections.
BACARDI RED HOT ROAD TRIP
BACARDI invited me aboard the "RED HOT ROAD TRIP" in 2001. As a member of the crew I enjoyed performing peak-hour sessions of underground house and techno on the ones and twos. In its iconic "Red Hot" tour bus, the nightlife giant toured 24 cities across the U.S. seeking the #1 party town.
Underground Sound 2
Headlining George Acosta, DJ CRAZE, Doc Martin, Micro, and Nigel Richards, thousands flocked to CatalyticSoul's massive weekend festival "Underground Sound" in 2005, so it was an honor to perform at "Underground Sound 2″ with Electric Skychurch, Infected Mushroom, John B., and Woody McBride in 2006.
Movement Music Festival
The view from Movement Music Festival's main stage is always breathtaking but, as an underground rave deejay and promoter invited to work alongside Paxahau and Canning Communications, the opportunity to preserve the Detroit Electronic Music Festival (DEMF) legacy is absolutely stellar, and I encourage you to make the journey to Detroit this year.
ICE Lounge Residency
I accepted residency at downtown Indianapolis' ICE Lounge in 2006, taking the decks at "Entice" Thursdays and "Posh" Wednesday's alongside Chicago legend Rees Urban, Indy's own Slater Hogan, and an array of deejays from throughout the region.
Barnyard Boogie
It feels like just yesterday when I performed at Toymaker Music's "Barnyard Boogie," one of the most notorious underground raves in central United States. Virtually every dedicated underground electronic music deejay in the region has performed at one of its seemingly countless incarnations, I'm humbled to have performed at Barnyard Boogie 5 in 2006... 'Til the cows come home!
Bookings
Send your request for bookings, press, or general contact in less than a minute!
Don't forget to like, follow, or whatever! It's literally a thing!
© 2023 dj.jimmijourney.com